How to add a new client
Adding a client is one of the first steps to getting started. You can either import all the information, check here how, or you can follow the next steps:
Go to Management section from menu.
Click on the Add button from the bottom right corner.
Choose the option – Add client.
The client page has 5 sections and relevant details related to client can be added:
1.LOGO
Drag & Drop the logo of your client, to identify easily each client into the clients' list.
2. GENERAL
Code: Add the unique code that's related to the client. This code helps to easily identify the clients throughout  the software. Usually companies are keeping evidence of their clients through different codes. If you don't have an official code with your client, don't worry, just leave the field empty and the app will automatically create one.
Name*: Name of your client – this is a mandatory information.
Address: Address of the client
ZIP code: Zip code of the client
City: City of the client
Country: Country of the client
3. FINANCIAL
These information will be used for the invoices that you will issue to the client.
Legal details: The client contract number or any other detail
Registration number: Registration number of the client
VAT number: The client VAT number – if from Europe
Bank name
Account number
Other bank details
IBAN
SWIFT
SORT CODE
Default invoice due days: Add the payment term specific for each client.
4. CONTACT
Add contacts related to the client, so you can have all the contact data in a single place. Also, if you have a list of contact people for your clients, you will be able to add them as  Client Project Managers, in Management/Projects, when you create projects linked to the clients.
To make the work relation even easier, you can create free accounts on elapseit platform, for your clients, so that they can can log in the app and see specific information related to his/hers company projects, BUT only information that you give them permission to see.
Find out more here.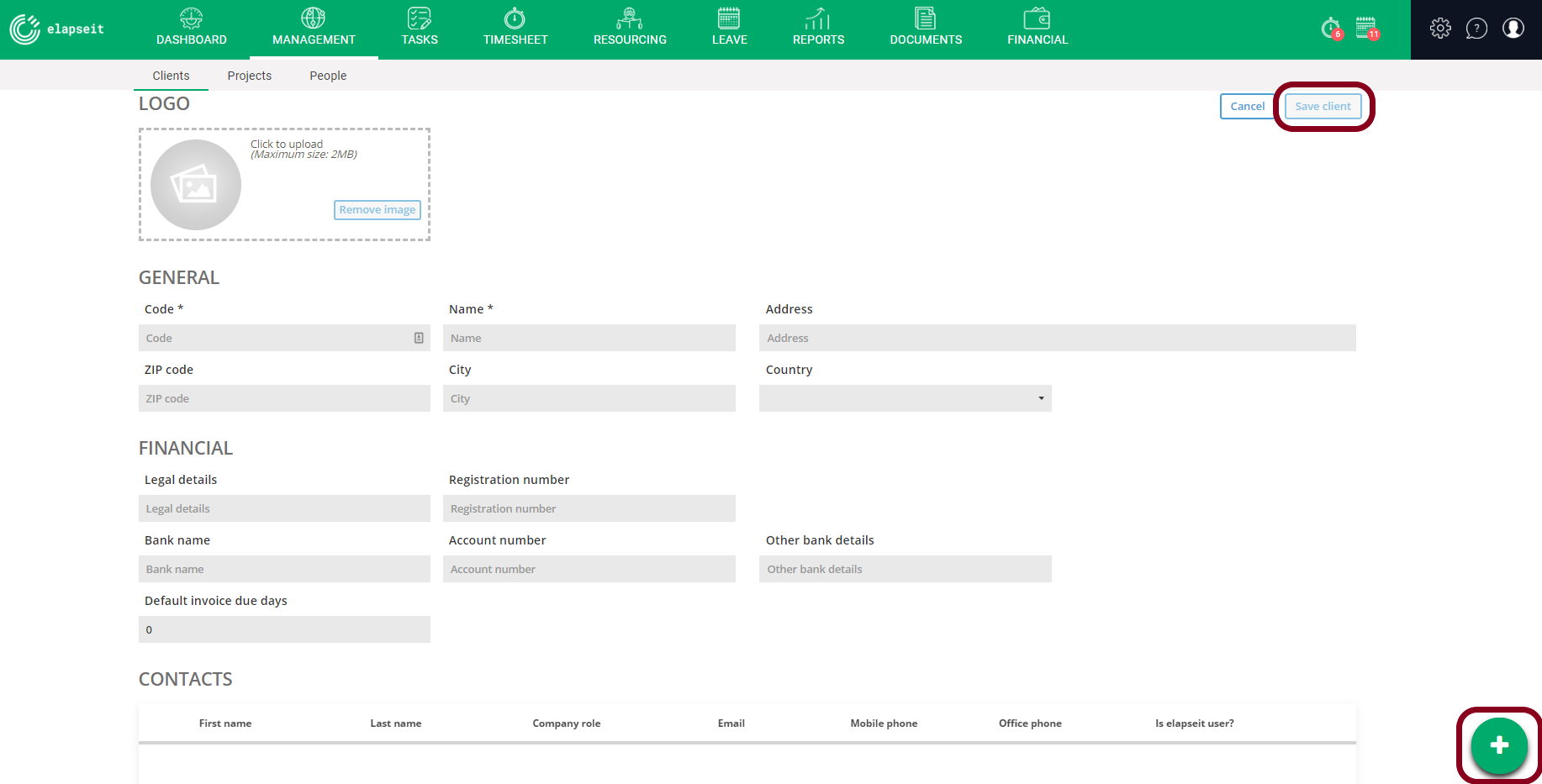 5. CUSTOM FIELDS
You can add custom fields to Clients, Projects, People, by clicking on the link in the page (Settings/Custom fields) and then add the needed fields.

All the new fields will be applicable only for your account and will be visible to all Clients list.